From the BBC news website today….
Woman seeks designer to make dress of dead mother's hair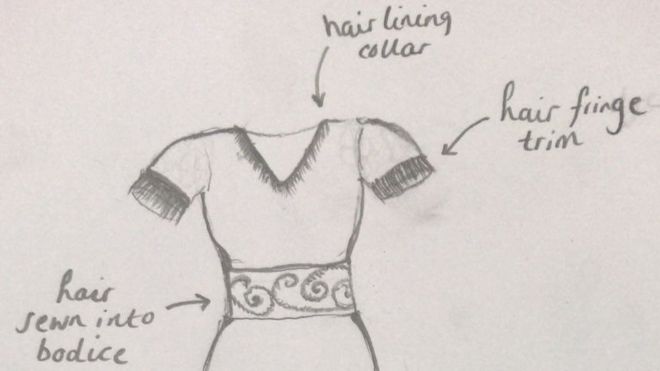 A woman is searching for a dressmaker who can create a garment featuring her dead mother's hair.
She says she had been collecting the hair for four years before her mother died in August and will pay £15k for a replica of her mother's wedding dress.
The 61-year-old from Bristol, who wants to remain anonymous, posted the request on the fashion manufacturing website Sewport.
So far, no designer has volunteered to take on the task.
'Special memento'
In her post, the woman writes: "I'm looking for someone to recreate my mother's wedding dress from 1953, which she wore when she married my father.
"My mother passed away recently and I'd like to create a special memento of her life.
She wrote: "I found out my mother was ill in 2014 and from that point onward I began to collect her hair.
"At the time I wasn't sure why I was collecting it, however, now I think I do."
She acknowledges the task is "admittedly quite weird" but says she is keen to have the finished piece ready in time for the anniversary of her mother's death next August.

Mourning fashion – a Victorian tradition
It was usual for Victorian mourners to wear lockets and rings containing a lock of hair from a dead person.
Queen Victoria is said to have regularly worn a locket of Prince Albert's hair from his death in 1861, up until her own 40 years later.
The preparation of hair for mourning jewellery was a professional occupation in the 19th Century.
At the same time in the US there was a trend for making wreaths out of loved ones' hair.
Wreaths intertwining the hair of dead and living relatives were viewed as objects to signify the family tree.
Details of how to shape and create a hair wreath are included in the Self-Instructor in the Art of Hair Work published in 1867, and a catalogue from the National Artistic Hairwork Company.
Leila Cohoon's Hair Museum in Independence, Missouri, displays more than 400 wreaths and more than 2,000 pieces of jewellery made out of human hair.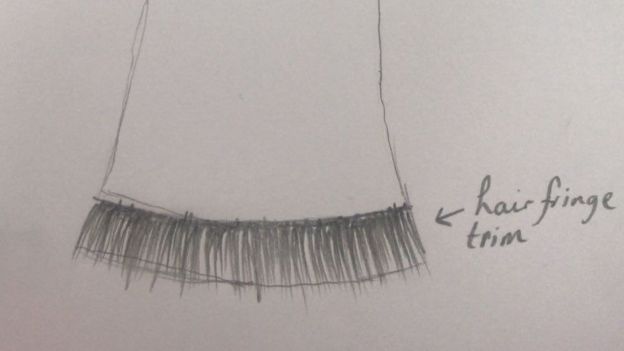 The ideal design she says, would feature hair sewn into the sleeves, trim, collar and bodice of the ballroom-style dress.
She has sketched out a design and says she would like it to be as "authentic" as possible and feature the box of hair she started collecting in 2014.
Boris Hodakel, founder of the Sewport website, said most design requests were typically snapped up by manufacturers within six hours.
He said: "We deal with quirky and wonderful designs every day – that's fashion."
©BBC News